Ocean Village on Hutchinson Island
Come see Ocean Village Hutchinson Island. With 3,000 feet of unspoiled oceanfront property the community has a place for every budget. As you come over the bridge on to Hutchinson Island you feel the mood change. The wide Fort Pierce Inlet greets you with beautiful blue waters. Next you will find the ocean meeting the beaches here on Hutchinson Island. Drive down Ocean Drive and you soon find Ocean Village Hutchinson Island a gated community of condos, townhouses and single family homes.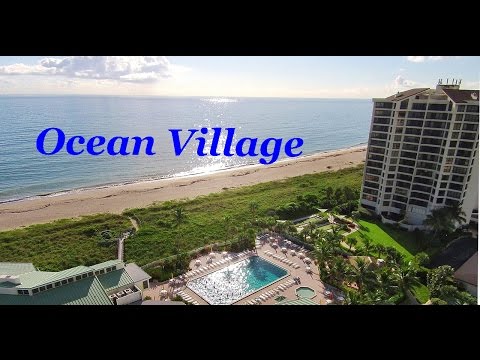 The community of Ocean Village features many 1 bd/1.5 ba condos in clusters such as Capstan, Ocean Villas or the golf villas. They make great vacation homes or weekend get a ways. Maybe a Golf Lodge which features 2 or 3 bedrooms and a single car garage is more suitable. In Southpointe you will find Golf Lodges or single family homes as well as the Ocean House condos which are 4 story direct oceanfront condos built in 2004. You will love the 9ft ceilings, large patios which hold a table and chairs for outdoor dining. Garage parking and yes they are Hutchinson Island pet friendly condos as well.
You will also notice the four tall condos called the Seascape which offer oceanfront views as well but are older with 8ft ceilings and outdoor garages. No matter what your budget, style or needs are there is a perfect place in the neighborhood Hutchinson Island oceanfront condos community.
Ocean Village Hutchinson Island Amenities
No matter if you love tennis, golf, bocce or just enjoy the beach we have something here for you. The main clubhouse features a large pool and hot tub. The Tiki bar makes a great addition to your vacation. Walk across the dune to the ocean. They have several smaller satellite pools around the community as well. Don't forget the oceanfront restaurant for lunch or dinner. The Ocean Village Hutchinson Island community gives you a resort style lifestyle directly on the ocean. Come see Ocean Village from a local resident realtors view. Don't miss the Downtown Farmers Market on the weekend and the Sunrise Theater offers some great winter entertainers.
More Hutchinson Island Condos
Harbour Isle on Hutchinson Island is another popular alternative for Florida living. Located
just as you cross onto the Island you will find Harbour Isle which are some of the best condo values on Hutchinson Island. Starting at just over $200,000 you will get nearly 2,000 sq. ft of living space with 10 ft ceilings. You can have marina views, river views or water views as you watch the boats enter the marina.
Ocean Village Fort Pierce
Singer Island Oceanfront Condos